Financial and Administrative Assistant
The Army, Navy & Air Force Veterans in Canada (ANAVETS)
The Army, Navy & Air Force Veterans in Canada (ANAVETS) is the most senior member-based veterans association in Canada. We advocate for and support the men and women who have served in Her Majesty's forces, past, present and future.
We are currently looking for a Financial and Administrative Assistant for our busy national office.
Position Type: 1 Year Contract (possibility of 1 year extension), Full-Time (34 Hrs/Week)
Salary: $17.00-$20.00/hr
Location: Ottawa, ON
Language: English (French is an asset)
Education and Experience: high school diploma and 2 years experience working in an office environment
Computer Skills: Knowledge of Microsoft Office Suite: Outlook, Word, Excel; Sage (Simply Accounting) software and Word Press web design software
Financial Responsibilities:
Accounts Payable and Accounts receivable, bank deposits, reconciliations and monthly reporting
Inventory and sales of regalia items.
Payroll and GST/HST quarterly filings
Administrative Responsibilities:
Assisting the Dominion Secretary Treasurer in typing and proofreading correspondence, maintaining paper and electronic filing systems, digitizing archives, scheduling, ordering supplies, answering phones, maintaining databases and reconciling membership dues.
The Assistant is also responsible for assisting national committees in their work, helping to organize meetings and national conventions as well as event management and recording of minutes.
Qualifications:
Knowledge of the basics of financial accounting and bookkeeping
Strong communication skills (both verbal and written) and organizational skills
Ability to work effectively as a team member as well as with little or no supervision
Multitasking and prioritizing a large workload in a fast paced environment
Knowledge of veteran/military issues and benefits an asset
Please send resume with subject heading: Admin Position to: anavets@storm.ca prior to 15 September 2017.
Only those applicants selected for an interview will be contacted.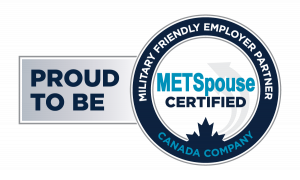 Commissionaires
Commissionaires is Canada's premier security company, providing meaningful employment to former members of the Canadian Forces and RCMP of all ages. From security, to identification, to management positions, this dynamic, forward thinking and trusted organization offers an ideal second career for veterans across the country. Commissionaires is a great place to be.
Watch the Veteran Impact Video to learn more:
For immediate employment opportunities, please visit the Commissionaires employment opportunities webpage.