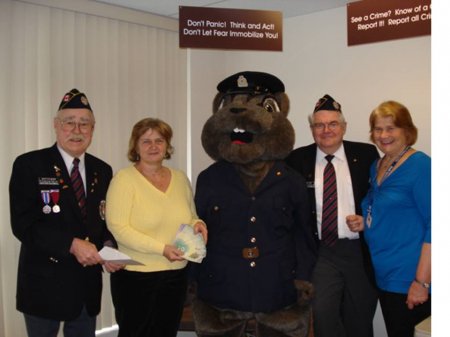 Army, Navy & Air Force Veterans, Unit 26, located just south of the Kensington Cedar Cottage 41 Avenue border, presents their $406.00 donation to South Vancouver Community Crime Prevention Association, April 9, 2009. The South Vancouver Anavets Unit 26 organized a bottle and can recycle drive at their Fraser Street and 43 Avenue club house to raise funds for the South Vancouver Community Crime Prevention Association (SVCCPA). During the month of March 2009 members and guests dropped of recyclable cans and bottles totalling $406.00 which has been presented to the crime prevention association on April 9, 2009.
The Anavets Unit 26 has been located in the South Vancouver since the early 1920's, providing charitable donations to the community to help improve the services these groups provide our area. Unit 26 provides over $70,000.00 of support in this way back into the community each year. For more information on joining the Anavets see our website at www.anavets.ca or drop into our club house for a visit.
The Army, Navy and Air Force Veterans in Canada (Anavets) was created in the 1840's to provide a non-profit ex-military organization for British Army troops defending the Colonies in Canada. Since this time the Army veterans have been joined by Navy veterans in 1812 and again by Air Force veterans in the 1940 to become the organization of today with over 18,000 members across Canada.
The South Vancouver Community Police Centre (SVCPC) community crime prevention office is a place where community members and businesses can meet and work with the police, in a non-crisis environment, to address crime and safety concerns.
Activities are organized by a full-time coordinator with an office staff of community volunteers. Day to day activities include coordination of police crime prevention programs such as Bike Patrol, Foot Patrol, and Speed Watch programs, and participation in community projects such as clean-up campaigns, graffiti paint-outs, public awareness initiatives, and generally helping the public with non-emergency crime-related problems. Volunteer drivers are currently needed to transport our Foot Patrol volunteers to their various patrol sites.
Police officers use the office to write reports, make telephone calls, and meet with community members. This office is NOT a precinct or a police substation.
Volunteers with the South Vancouver CPC come from all walks of life. Many of our volunteers are aspiring police officers seeking to gain police related experience, and numerous others are simply doing their best to help make our city a safer and more enjoyable place to live. To become a volunteer with our organization one must fill out an application form as well as a form granting permission for a criminal background check to be conducted. These forms are available in the office. Once these forms have been processed the volunteers are trained by the Vancouver Police Department. For more information on how you can help the Crime Prevention office visit their website at www.southvancouvercpc.com
Pictured from Left: Rudy Eylmann, Executive Unit 26, Adrien Balazs, Executive Director SVCPC, Constable Chip, John Yates, Executive Unit 26, Gail McKay, Vice President SVCPC.