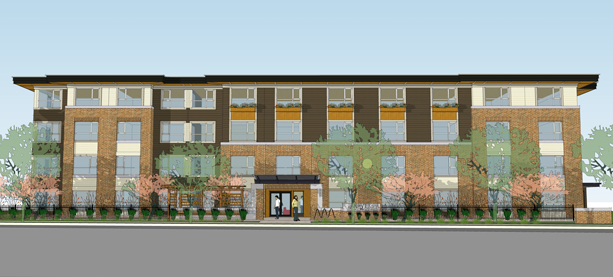 In the late 1960s the Anavets Senior Citizens' Housing Society constructed three buildings in North Vancouver to house veterans, their widows and other seniors in the community living on fixed incomes.  In 2010 those buildings, on separate parcels adjoining each other, were fast becoming outdated and in need of replacement.
Quoting Society President Bill Calvert:  "Because of this facility's age, it lacks things that seem so standard to more modern developments, like a sprinkler system, kitchen fans and proper ventilation.  A fire would have been devastating.  Our attention was focused on creating a safer more comfortable environment."
For 15 years the Society looked for a way to replace the aging buildings.  Available property for new housing is hard to come by in North Vancouver so figuring out a way to redevelop the current location was a challenge.  With available land for development opportunities limited in North Vancouver, BC the Society came together with developer Intracorp in a redevelopment project that will deliver safe and affordable rental housing for seniors.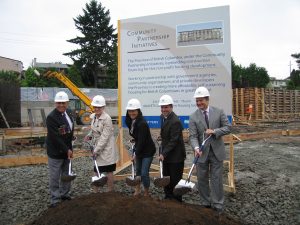 Intracorp approached the Society with a redevelopment proposal that we could not turn down.  Their proposal included constructing our new building at 245 East 3rd Street.  Then, with the new building complete and the tenants moved into it, Intracorp would purchase the remaining two parcels of land for construction of a market condominium building.  Other developers that we met wanted to build their building first and then our building later, which would require us to move 88 tenants elsewhere during construction.  Intracorp being willing to build our facility first, meant that we would only have to move 18 tenants during redevelopment.  Those 18, along with the tenants remaining in the other two buildings will move right into the brand-new building upon completion.
Construction is now well underway and when the new building is complete it will include 22 studio apartments and 54 one-bedroom apartments.    Construction will be complete by the fall of 2012 and the facility will meet LEED Silver certification.
ABOVE: Ground Breaking pictured from Left to Right:  Bill Calvert, ANAVETS President; Mary McLeod ANAVETS Administrator, Naomi Yamamoto, MLA North Vancouver–Lonsdale; Mayor Darrell Mussatto, City of North Vancouver; Don Forsgren, Intracorp – President, West Region.
PUBLIC/PRIVATE PARTNERSHIP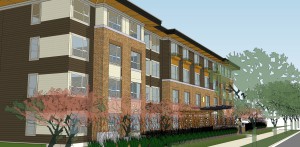 The driving force behind the $16.3 million redevelopment was the partnership created between the Province of British Columbia, Intracorp and ANAVETS.  Through this partnership, the province will provide $12.8 million in construction financing while ANAVETS will provide three parcels of land, including the property for the senior housing valued at about $3.5 million.