Veterans Affairs Minister Steven Blaney Reaffirms Harper Government's Support for Helmets to Hardhats in Canada
WOODBRIDGE, ONTARIO–(Marketwire – May 24, 2012)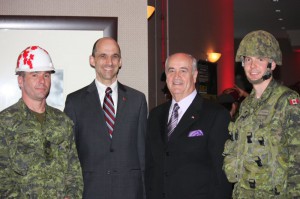 The Honourable Steven Blaney, Minister of Veterans Affairs, and the Honourable Julian Fantino, Associate Minister of National Defence, attended a Gala tonight in support of the Helmets to Hardhats program. The Helmets to Hardhats program, led by Canada's Building Trade Unions, will help connect Veterans, Canadian Armed Forces members and reservists to a range of careers within the construction industry, including apprenticeships in various building trades.
"Our Government is ensuring our Veterans successfully transition from military to civilian life, said Minister Blaney. "That's why we recently announced that our Government is contributing $150,000 to support Helmets to Hardhats in Canada to help facilitate jobs and training opportunities for our Veterans and Canadian Armed Forces members who are interested in a career in the construction industry."
"Our Government is committed to providing our brave men and women in uniform with the tools they need to do the jobs we ask of them," said Associate Minister Fantino. "I am pleased to support initiatives such as Helmets to Hardhats that help ensure our Veterans have the tools to continue to build a strong and prosperous Canada."
Over the course of their careers, members of the Canadian Armed Forces develop highly transferable skills. Helmets to Hardhats will, through its Web site, help Veterans match the skills they acquired in the military with employment opportunities in the construction industry. The Web site will also provide employers and local unions with access to a talented labour pool to fill positions from engineering posts to trade employment contracts and apprenticeship opportunities. Helmets to Hardhats will be a fully bilingual service that can be accessed by telephone or online.
"This program is already extremely successful in the United States. We have every reason to believe that it will be extremely successful here in Canada," said Minister Blaney. "Our Government acknowledges the Interior Systems Contractors Association, the Canadian Boilermakers Union, the Carpenters Union and Canada's Building Trades Unions, which helped organize this evening's event. These organizations have demonstrated their commitment to this initiative and their commitment to our Veterans."
For more information on Veterans Affairs Canada's programs and services, please visit www.veterans.gc.ca.